A long-lasting palace for palms and people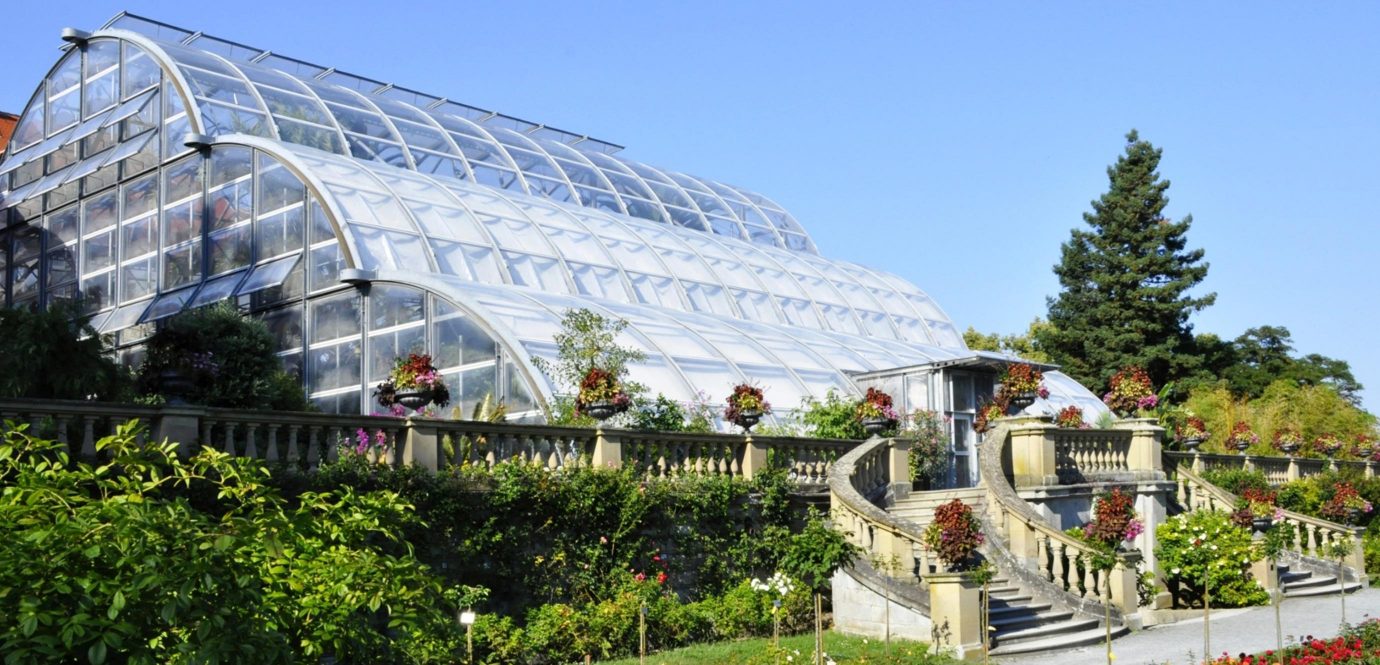 A unique PLEXIGLAS® building on the Flower Island of Mainau has been protecting the valuable plants since 1998. Exposed to the elements all year round, other plastics quickly become unsightly – but not PLEXIGLAS®.
As far back as 1867, Grand Duke Frederick I of Baden had an orangery built on Mainau Island on Lake Constance. Intended to protect the collection of exotic plants during the cold months, the building could be fully disassembled. His great-grandson, Count Lennart Bernadotte, commissioned the first Palm House in 1968. Thirty years later, the impressive palm trees had grown so much that a new home was needed. This building, too, was to be designed to be dismantled each spring and erected in the fall, but the conditions have changed.
The highest standards for construction and material
Thilo Üblagger, engineer and CEO of k-tec Thermoforming Solutions in Radstadt near Salzburg, is an expert in botanical gardens. His company had already implemented similar projects in Zurich and Graz, but in the late 1990s the Palm House on Mainau Island was the first building he had designed as a temporary structure. For Üblagger, this posed "a particular challenge in terms of structural physics," not only for the construction itself, but also for the materials to be used.
"It had to be easy to dismantle the entire structure and the material had to be robust enough to withstand frequent dismantling and assembly." PLEXIGLAS® 0F00 with a thickness of 6 mm was chosen and a double layer installed in all 140 bespoke facade and roof elements.
Along with its breaking strength, Üblagger praises the "extraordinarily positive effect of PLEXIGLAS® has on plant growth", as it is both "UV-stable and features an optimum transparency for the development of chlorophyll."
"PLEXIGLAS® has an unusually positive effect on plant growth."
- Thilo Üblagger
As a result, the Palm House not only looks impressive, but also offers 1,300 square meters of the optimum conditions for various species, as the garden's Managing Director Markus Zeiler confirms. "The roof structure is designed in the form of waves and features three different heights between 6.6 and 17.4 meters. The Canary Island date palm trees, which grow as high as 16 meters, now have enough space, while smaller plants can come into their own in the lower areas."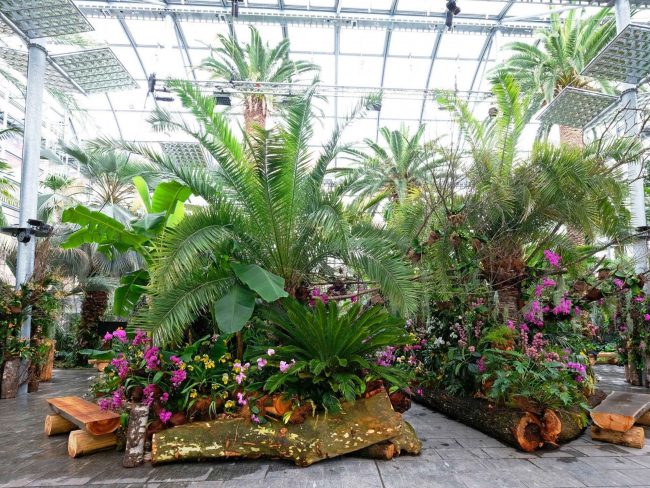 Orchid Show in the Palm House
Colorful blooms under PLEXIGLAS®: The traditional Orchid Show in the newly renovated Palm House held in spring 2018 featured more than 3,000 orchids – in addition to the permanent exhibits.
From a seasonal to a year-round building
Bigger than its predecessor, the new building also requires more time and effort for dismantling and reassembly. In addition, the Palm House has become a popular venue for events. As a result, it is no longer dismantled and reassembled every year, but at irregular intervals – for example for the thorough maintenance conducted in 2017. Several components had to be repaired or replaced, while the PLEXIGLAS® elements needed nothing more than a thorough clean with a high-pressure cleaner, followed by the application of a protective wax polish.
"This is a tremendous compliment for PLEXIGLAS® as a material," says Üblagger. "We saw once again that, thanks to its porous surface, PLEXIGLAS® features an extremely high degree of self-cleaning and retains a very homogeneous surface quality, even after being exposed to the elements for decades." The Palm House also benefits from another property of the brand acrylic glass that sets it apart from most other plastics: The intrinsic UV protection that the colorless, transparent PLEXIGLAS® provides prevents any yellowing. PLEXIGLAS® thus delivers high luminous efficiency in the interior even after several decades.
Another ten years
The maintenance performed ensures the safety and integrity of the Palm House, located directly next to the Baroque Palace on Mainau Island, until 2028, promises Mainau Gardens Director Zeiler. The plan is then to find a new location for the Palm House on the island, so that the Baroque Palace with its terrace and garden can be returned to its traditional glory. Thilo Üblagger is convinced that the PLEXIGLAS® outer layer would remain intact for many more years than that: "If we were to take a look in 30 years, we would see that the appearance of the building has not changed at all."
SIMPLY ORDER IN 3 STEPS - SO YOU FIND WHAT YOU NEED:

Step 1
Open product overview and select suitable grade for your project.

Step 2
Enter color, transparency level, thickness and cut in the configurator.

Step 3
Pay securely and receive shipping confirmation within 48h.
Configure now