Thanks to the PLEXIGLAS®
terrace roof enjoy any weather
For many, a terrace is a second living room: it's where we eat, play, read and celebrate with family and friends. But when it rains or the sun shines unpleasantly strong, it can quickly become uncomfortable on the terrace. A roof made of PLEXIGLAS® protects and makes spending time outdoors comfortable.
PLEXIGLAS®: UV-STABLE AND TRANSLUCENT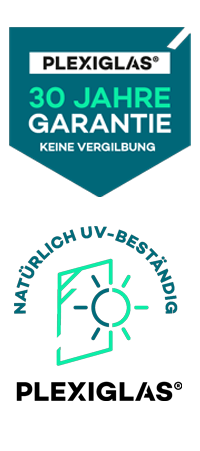 Especially in spring and summer life takes place outside. Those who have a covered terrace or balcony can enjoy the fresh air there despite rain showers. However, a terrace roof not only protects against precipitation, it also provides sun protection and privacy. In addition, patio furniture stays beautiful longer because it is not at the mercy of the weather day in, day out.
PLEXIGLAS® is a particularly suitable material for patio roofing because it is UV-stable. On the one hand, this has the advantage that the sheets remain brilliant and do not yellow even after years of exposure to sunlight - and this is true of almost all colorless, transparent products with a 30-year guarantee. On the other hand, UV rays harmful to humans are almost completely absorbed, comparable to sun protection factor 50, which makes a carefree stay on the terrace possible for all family members. Adjacent rooms, whose windows face the terrace, remain as bright as day thanks to the translucent branded acrylic glass.
SIMPLY ORDER IN 3 STEPS - SO YOU FIND WHAT YOU NEED:

Step 1
Open product overview and select suitable grade for your project.

Step 2
Enter color, transparency level, thickness and cut in the configurator.

Step 3
Pay securely and receive shipping confirmation within 48h.
Configure now