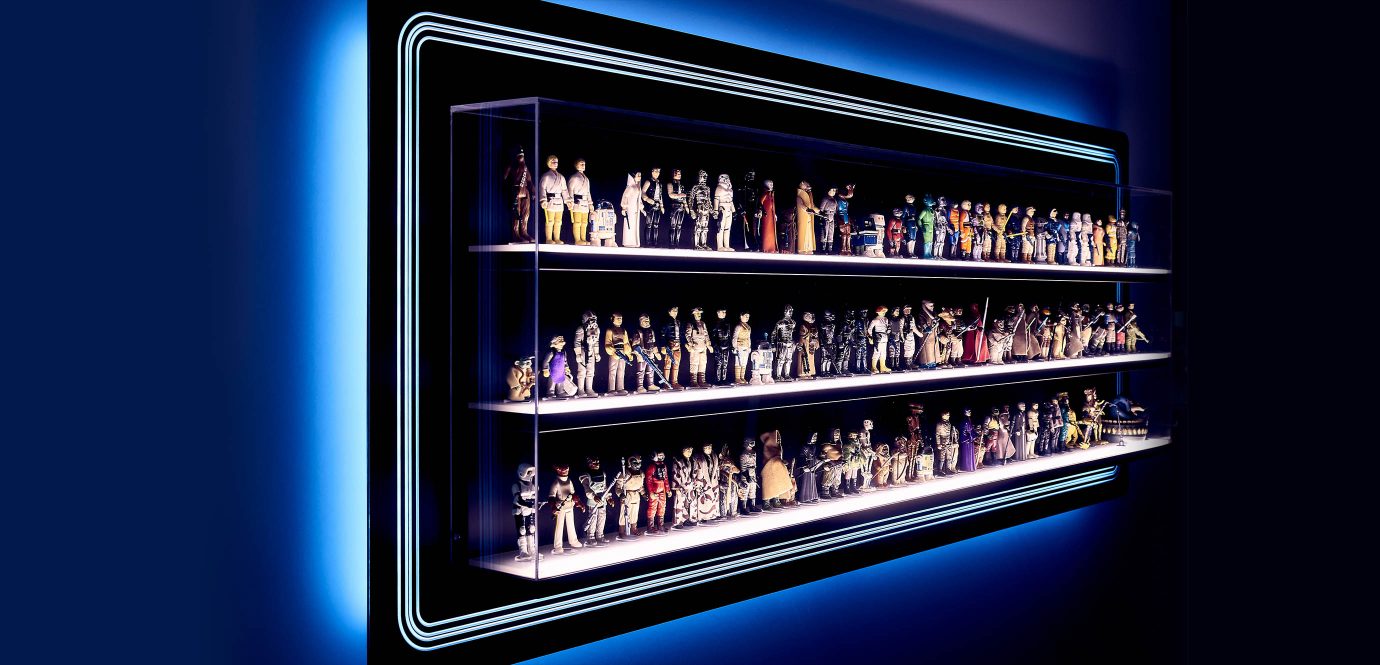 BIG STAGE FOR SMALL HEROES
Action figurines enjoy cult status and are desirable collectors' items. Rare pieces sell for large amounts of money, so it would be a shame for them to gather dust. PLEXIGLAS® display cases are the perfect way to present them.
In front of a jet-black backdrop, the heroes appear to float on top of a white beam of light, almost as if they just returned from a successful mission. In reality, they are simply figurines presented in an impressive display case. And those who recognize the miniature figurines from the silver screen will certainly have the amazing soundtrack in their head.
So much for "kids' toys"
The innovative display case was designed and built by master carpenter Mathias Knuhr, who is head of operations at the Schreinerei Luther carpenter's workshop in Darmstadt. A friend of his had completed a set of figurines and was looking for a way to show them off. After this initial prototype, a whole range of custom-designed cabinets followed. "I collect action figurines myself, so I know what's important," says Knuhr.
A whole industry has been built around action figures, from grading agencies which determine the age, rarity and value of the figurines, to traders and restorers who give older figures a fresh lease of life. At auction, rare figurines can fetch up to a quarter of a million dollars. "These sums are comparable to those found on the art market," says Knuhr. "This scene demands high-quality displays to present the figures and retain their value."
A photo of Knuhr's first display case went viral amongst collectors on Facebook. That was in 2014. Over the subsequent years, the carpenter's workshop in Darmstadt received orders from all over the world. "The furthest we dispatched a case was to Hollywood Hills," says the master carpenter proudly. Three cases have been sent to the London area, one is in New York, with others still in Germany, France, Belgium and Italy.
Adhesive seams must not negatively affect the aesthetics of the hood. To avoid this, Mathias Knuhr decided to use miter joints, a technique in which the edges are joined together at a 45-degree angle. "It is a trickier process, but helps ensure the optimum level of shine," the carpenter explains. Depending on the application, he uses ACRIFIX® 1R 0192 or ACRIFIX® 2R 0190 PLEXIGLAS® adhesives.
PLEXIGLAS® for protection and presentation
Knuhr initially manufactured the display cases using glass, or a combination of laminated safety glass and PLEXIGLAS®. He has since fully switched over to the brand acrylic glass from Röhm as the material has many benefits for both the processor and the collector, as well as being the source of many new design inspirations. It can be processed in a similar manner to wood, is more transparent than glass, and does not break light or cause optical distortions. Moreover, PLEXIGLAS® is UV-resistant and can be used to create diverse lighting effects. It is not only far less likely to shatter than glass, but is also only half as heavy – two significant benefits when it comes to handling and transportation. The lower weight also helps save costs during transport, as every kilogram counts in air freight. However, from a collector's point of view, the most important factor is the UV protection provided by the transparent hood made from PLEXIGLAS® XT, as UV radiation can cause colors to fade. As PLEXIGLAS® consists of UV-stable molecules, it not only remains absolutely transparent even over long periods of time, but also protects the figurines inside the display case. "The collectors' items keep their original color, which is an important factor for the retention of value," explains Knuhr. Thanks to thus high level of protection, the figures can even be displayed in rooms with direct sunlight. "Advantages like this make it easy to move away from wood and glass and switch to PLEXIGLAS®. No other material has these properties," explains the master carpenter.
Buy PLEXIGLAS® XT
PLEXIGLAS® XT is extruded acrylic glass. It has unmatched resistance to aging and weathering, is highly transparent, brilliant, breakproof, easy to shape and work with and available in many colors. You can order PLEXIGLAS® XT in various thicknesses, formats and colors from our PLEXIGLAS® online shop.
Shop Now
Cosmic black and white fog
Different types of PLEXIGLAS® are used for the various components of a display case. The rear wall is formed from a panel of PLEXIGLAS® Satinice, which is coated in a layer of matte black Extreme Resist varnish. A CNC milling machine can be used to create striking design elements such as light strips, patterns, logos or writing. The rear wall also conceals technical materials, such as the transformers and control electronics used for the lighting. The illuminated shelves are made from PLEXIGLAS® Satinice and are installed above a rail housing LED lamps. The material properties of PLEXIGLAS® Satinice White (snow) WH10 DC create a diffused light effect which makes the figurines appear as if they are floating.
While the lighting effects present the figures in an exciting manner, the cabinet's real x-factor is hardly noticeable – namely high-quality design which does not steal the show from what is being displayed. Furthermore, the transparent PLEXIGLAS® XT hood provides almost invisible protection, shielding the figurines from UV radiation and dust – as well as stopping unwanted access to them.
Buy PLEXIGLAS® Satinice
PLEXIGLAS® Satinice is acrylic glass with a tough, satin-like surface. It impresses through its pleasant look and feel and its subtle light diffusion. Sheets are available with satined surfaces on one or both sides, or pearled in different colors. You can order PLEXIGLAS® Satinice in various thicknesses, formats and colors from our PLEXIGLAS® online shop.
Shop Now
Attention-grabber and talking point
This combination of design and protection has struck a chord within the collector community: "Wow … double wow … that would have to be the best display ever," wrote one collector from the USA. And a company from High Wycombe near London is cleverly using this "wow" effect for communication purposes: The display cabinet made from PLEXIGLAS® is installed in a meeting room and is not only an attention-grabbing display, but also a fantastic ice-breaker. Customers take selfies in front of the action heroes and immediately have something to talk about.