EXTENDING SUMMER WITH A
PLEXIGLAS® GREENHOUSE
A greenhouse in their own garden is a dream come true for all hobby horticulturists. Find out why PLEXIGLAS® is a particularly suitable material for this, and why even commercial greenhouse operators rely on our branded acrylic.
Faster growth and more intense colors
Hobby gardeners love having a greenhouse in the garden because it extends the gardening season considerably. It provides a protected and sufficiently warm environment for seedlings to grow and, if necessary, for potted plants to survive the winter. PLEXIGLAS® multi-skin sheets are the optimal roofing material for hobby greenhouses.
PLEXIGLAS®: Glass-like transparency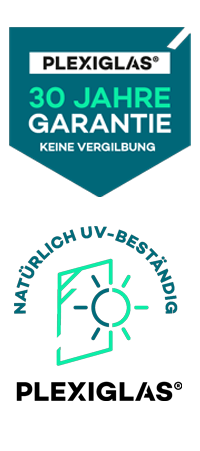 PLEXIGLAS® Alltop multi-skin sheets are UV-transparent, transmit the full spectrum of light and, with web spacing of 64 millimeters, offer glass-like transparency. The special NO DROP coating on all PLEXIGLAS® Alltop surfaces – including within the cavities - prevents formation of water droplets which would obstruct light.
This is why plants in PLEXIGLAS® greenhouses grow all year round in near outdoor conditions while remaining well protected from adverse weather effects. Even hail does not damage the tough multi-skin sheets. The branded acrylic remains clear and shows no yellowing, even after decades; like almost all clear PLEXIGLAS® sheeting, it is covered by a 30-year non-yellowing warranty.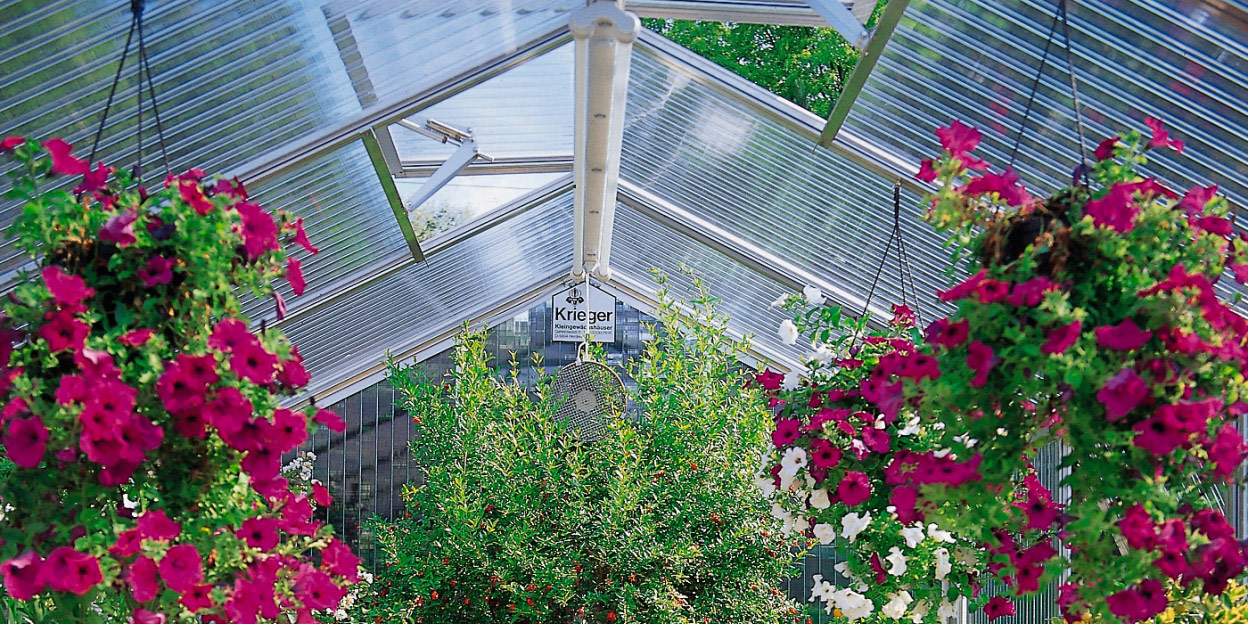 SIMPLY ORDER IN 3 STEPS - SO YOU FIND WHAT YOU NEED:

Step 1
Open product overview and select suitable grade for your project.

Step 2
Enter color, transparency level, thickness and cut in the configurator.

Step 3
Pay securely and receive shipping confirmation within 48h.
Configure now
PLEXIGLAS® Alltop saves energy
An additional benefit for greenhouse construction is that PLEXIGLAS® Alltop multi-skin sheets are very good insulators because the closed air chambers serve as an insulating layer. Next to energy savings and reduced heating costs accordingly, this also results in the satisfaction of reducing the environmental impact.
The properties that appeal to hobby gardeners are just as relevant for commercial greenhouses because—in addition to absence of yellowing, long-term light transmission, and UV transparency—effective thermal insulation is an important factor in the energy-efficient cultivation of crops and ornamental plants. It means that less heating is required in winter and less cooling in the summer, which reduces energy costs and protects the environment.
For professional greenhouses, variants of PLEXIGLAS® multi-skin sheeting other than PLEXIGLAS® Alltop are available for different purposes and areas of use.