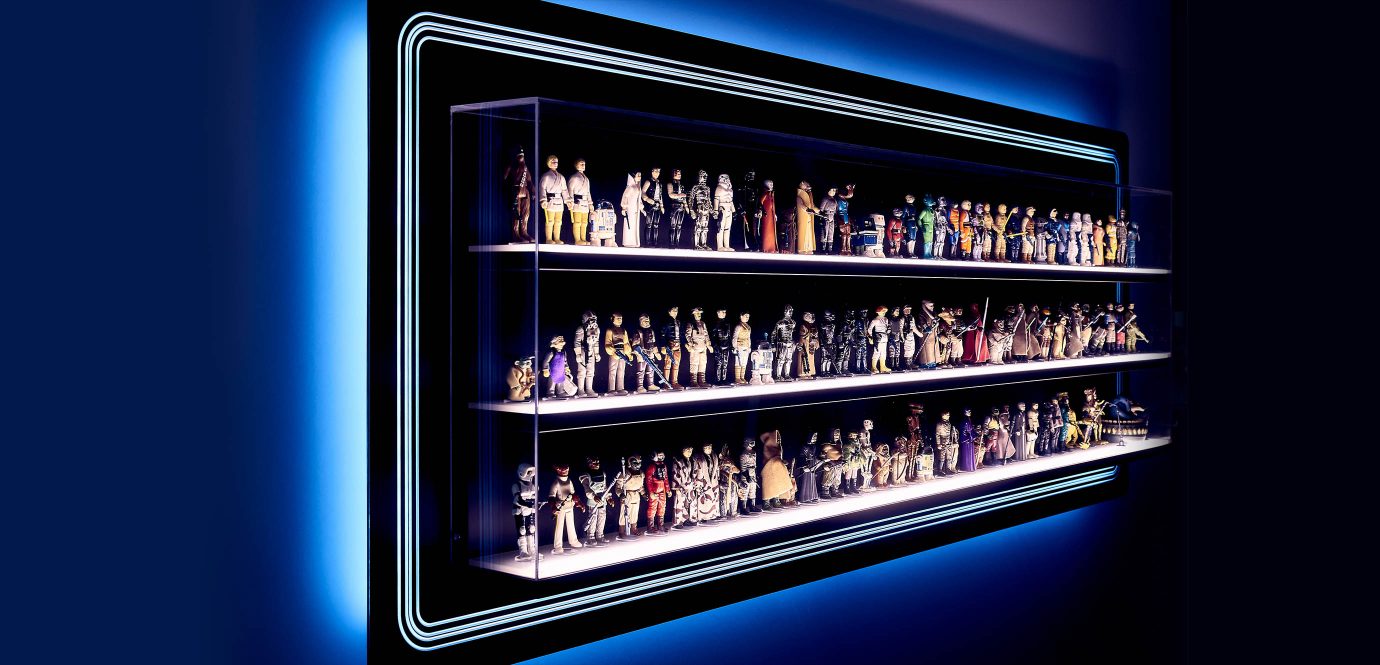 Show off your collectibles to their best advantage in collector showcases made of PLEXIGLAS®. The material offers numerous advantages for both fabricators and collectors and inspires new design ideas time and again: It can be processed just as well as wood.
PLEXIGLAS® is more transparent than glass, with no light refraction or optical distortion. It is UV-resistant and enables a wide range of lighting effects. In addition, the material is not only more break-resistant than glass, but also only half as heavy - two advantages for handling and transport. The most important factor from a collector's point of view, however, is the UV protection of the transparent hood made of PLEXIGLAS® XT. After all, UV radiation can cause colors to fade.
The back panel is a sheet of PLEXIGLAS® Satinice, which is primed with a matte black Extreme Resist coating. Effective design elements such as light bands, ornaments, logos or lettering can be milled into it with a CNC router. The back panel conceals the technology, such as transformers and control electronics for the lighting. The illuminated shelves are made of PLEXIGLAS® Satinice over a track with LED lights. Thanks to the material properties of PLEXIGLAS® Satinice White (snow) WH10 DC, a diffuse light is created that makes the figures appear to float.
While the lighting sets a sensational stage for the contents on display, the highlight of the collector's showcase is what is barely visible: high-quality design that does not steal the show from the contents. The cover made of transparent PLEXIGLAS® XT offers almost invisible protection. It protects the collectibles from UV radiation and dust - and from unwanted access.
SIMPLY ORDER IN 3 STEPS - SO YOU FIND WHAT YOU NEED:

Step 1
Open product overview and select suitable grade for your project.

Step 2
Enter color, transparency level, thickness and cut in the configurator.

Step 3
Pay securely and receive shipping confirmation within 48h.
Configure now