A carport roof made of PLEXIGLAS®
protects against hail, rain and heat
If you want to build a carport and decide on a roof made of PLEXIGLAS®, you can basically choose between three different sheet types: multi-skin sheets, corrugated sheets or solid sheets.
All panel variants are extremely stable, robust and impact-resistant due to high wall thicknesses. These roofings therefore reliably withstand hail or even falling branches and thus protect the car, motorcycle or bicycle parked underneath from dents and scratches. Another plus point is that the lower weight of acrylic sheets compared to glass - especially the web and corrugated sheets - means that less massive substructures are possible.
Sheets of PLEXIGLAS® remain permanently beautiful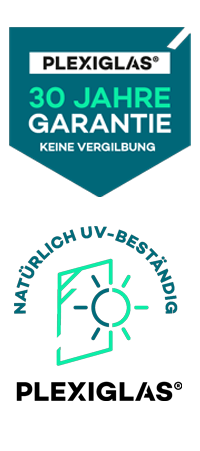 In addition to heat buildup, direct sunlight can bring another problem. It causes many other plastic roofs to yellow quickly and become unsightly. Carport roofs made of PLEXIGLAS® solid sheets, multi-skin sheets or corrugated sheets remain permanently beautiful thanks to their material's own UV protection, also called "NATURALLY UV-STABLE" technology. The brand-name acrylic glass remains brilliant and does not yellow even after decades - and, like almost all colorless sheets made of PLEXIGLAS®, comes with a 30-year guarantee.
Numerous PLEXIGLAS® multi-skin sheets are also available with an anti-adhesion coating (AAA). In combination with sunlight, this coating breaks down algae, moss and dirt particles. In addition, the No-Drop technology in PLEXIGLAS® multi-skin sheets ensures that raindrops run off to form a thin film of water, which simply rinses off the dirt.

SIMPLY ORDER IN 3 STEPS - SO YOU FIND WHAT YOU NEED:

Step 1
Open product overview and select suitable grade for your project.

Step 2
Enter color, transparency level, thickness and cut in the configurator.

Step 3
Pay securely and receive shipping confirmation within 48h.
Configure now